La Crosse, WI - Community and business leaders can access the knowledge and experience of world-renowned leaders by attending Leadercast® at The Weber Center for the Performing Arts in La Crosse on Friday, May 8, 2015, from 8:00am-3:30pm.
The Leadercast event is broadcast LIVE from Atlanta, GA to hundreds of sites around the world, including La Crosse. This year's speaker lineup includes:
Andy Stanley - Leadership author and communicator

Malala Yousafzai - Nobel Laureate; Founder, The Malala Fund

Ed Catmull - President of Pixar & Disney Animation Studios

Seth Godin - Best-selling Author

Rudy Giuliani - 107th Mayor of New York City (1993-2001)

Aja Brown - Mayor, City of Compton

Bill McDermott - CEO of SAP AG

CMDR Rorke Denver - Navy SEAL Commander & Author

Bill & Giuliana Rancic - Award-Winning Personalities & Co-Hosts of Leadercast

And more!
Last year, over 130,000 leaders from 35 countries attended Leadercast. Now, in its 16th year, this full day, experiential conference is on track to reach it's largest audience to date.
Leadercast is the largest one-day leadership event in the world. Dahl Automotive is proud to bring this incredible leadership development opportunity to the community. Andrew Dahl, President of Dahl Automotive shares, "Leadercast La Crosse is a way we can share our humility based leadership vision with the community.  The Dahl Automotive journey has been about preparing the next generation of leaders to lead in this new way. Leadercast La Crosse is an impactful, inspirational leadership day and we look forward to seeing local and regional leaders in attendance". We are grateful to our local sponsors for making this event a reality for our community: Viterbo University, Gundersen Health System, LHI, Community Credit Union, EO Johnson and Kaplan Professional Education.
Leadercast exists to positively change the way the world thinks about leadership. This year's theme-The Brave Ones - challenges leaders to lead with a sense of Bravery, possessing a posture of unrelenting boldness. Bring your friends or team members to experience Leadercast and discover what it means to be a leader worth following.

For more information about Leadercast, visit www.leadercast.com. For local ticketing information, call (608) 791-6442 or visitwww.leadercast.com/location/lacrosse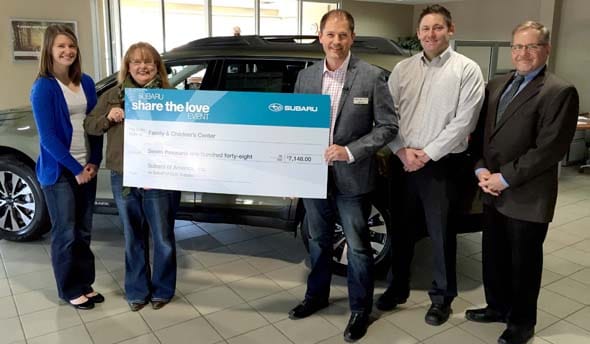 Dahl Subaru donates $7,000 to Family & Children's Center to prevent child abuse
LA CROSSE, Wis. - More local children will be able to benefit from child abuse prevention services in coming months due to a $7,000 donation from Dahl Subaru and Subaru of America as part of its "Share the Love" event.
Dahl made the donation to Family & Children's Center's Healthy Families, Stepping Stones and Hope Academy programs designed to get families started on a healthy path from the beginning and to intervene when abuse has occurred.
Customers who purchased or leased a new Subaru vehicle during the holidays could select from a list of charities to receive a donation of $250 from SOA. The company this year will donate $15 million to participating charities.
SOA, now in its seventh year, selected four national charities: ASPCA®, Make-A-Wish®, Meals On Wheels Association of America® and National Park Foundation. Dahl Subaru could also elect to add a local charity and added Family & Children's Center as its "hometown charity."
"Share the Love is about making a difference in our community and we can't think of a better place to start than with children and creating healthy families for them," said Tyler Dahl, General Manager of Dahl Subaru. "Our employees and customers have a philanthropic spirit, and Share the Love gives all of us a chance to do something great for our community."

-Award Recognizes Dealer Excellence in Customer Service- 
Cherry Hill, N.J.?(5/23/2013) Subaru of America, Inc. today announced that Dahl Subaru of La Crosse, Wisconsin joins an elite group set to receive the prestigious 2013 Subaru Stellar Care Award
"The Subaru Stellar Care Award is earned by top ranking Subaru dealers who deliver an exceptional ownership experience to our customers," said Bill Cyphers, senior vice president, sales for Subaru of America.  "Award recipients meet the high Stellar Care benchmarks for customer satisfaction, brand representation, and operational excellence.  Our brand has enjoyed record sales for the past four years and this success is in large part due to the excellence of our retail body."
Achieving this highly coveted award requires truly exceptional dedication and Subaru dealers must devote significant time and resources to the customer experience throughout the year.  Performance measures for the program range from participation in all customer-focused Subaru programs to maintaining a customer-friendly, inviting facility.  Dealers must also achieve outstanding satisfaction scores for all key areas in Sales and Service and demonstrate outstanding performance in Customer Loyalty.
Dahl Subaru is located at 712 4th street south, La Crosse, WI.  For more information, the dealership can be contacted at 608-784-9600 or at www.dahlsubaru.com.
DAHL AUTOMOTIVE ANNOUNCES ACQUISITION OF WALZ DEALERSHIP
Dahl Automotive today announced the acquisition of Walz Chevrolet Buick GMC in Winona.  The new dealership will be called Dahl Chevrolet/Buick/GMC and will continue to operate in the same location with 99% of the existing Walz employees.  This will be the second location for Dahl Automotive in Winona, after acquiring a Toyota dealership in 2010. "Growth is good," commented Andrew Dahl, one of the 4 owners of the new dealership that includes his father Harry Dahl and brothers Jansen and Tyler. "We've enjoyed being a part of this community and plan on taking an aggressive posture to secure Winona as the focal point in this region for our new lineup of brands."
Andrew pointed out that back in the 1930's the Dahl name was the biggest name in Chevrolet dealerships in America, with locations throughout the country.  "We're back with Chevy again, and looking forward to the next generation," he added. "We want everyone to experience what  Dahl Automotive is all about?choices? fair treatment?you know what to expect when you come in to see us."
 At this morning's press conference Jack "Butch" Walz explained that choosing the Dahl family was an easy decision.  "We've been serving this community for many great years, and I'm comfortable with the idea that Winona will be well served with the Dahl family," says Mr. Walz.
 Dahl is one of the oldest Ford dealers in America, and has been in business over 100 years. They currently own dealerships that include Dahl Toyota in Winona, Dahl Hyundai?Subaru?Mazda in La Crosse, and Dahl Ford?Lincoln in Onalaska.
Contact info:  Andrew Dahl   507-452-4080