Dahl raises $14,500 for Family & Children's Center
by: MARK WEHRS Dec 6, 2016 photo: SAM ROBERTSON ( Elevate Media Group )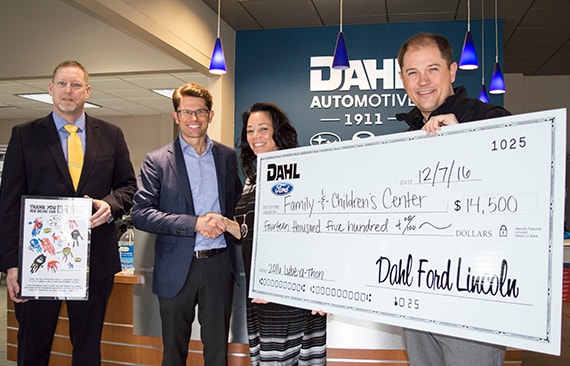 Dahl Automotive will present the Family & Children's Center with a check for $14,500.
Dahl raised the money with its annual Lube-A-Thon fundraiser Sept. 24. The money will support the Family & Children's Center's child abuse prevention programs Healthy Families, Hope Academy and Stepping Stones in La Crosse, and Matty's Place in Winona. 
The check presentation will be at 10:30 a.m. Wednesday at the Dahl Subaru dealership at 712 S. Fourth St.
In the past eight years, Dahl Automotive has raised more than $90,000 for local nonprofits through its Lube-A-Thons. 
Dahl Breaking Ground on new Subaru dealership downtown
by: MARK WEHRS Dec 6, 2016 photo: SAM ROBERTSON ( Elevate Media Group )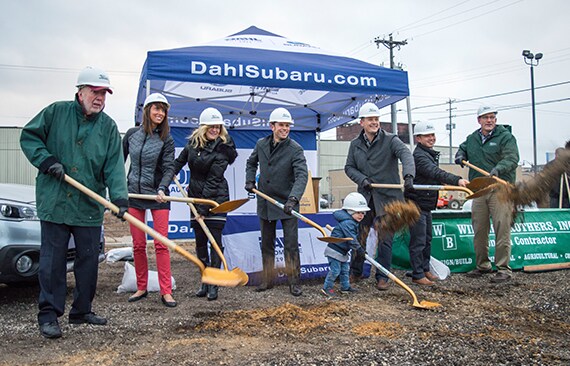 Dahl Subaru plans a groundbreaking celebration at 4 p.m. today for its new Subaru facility at 811 S. Third St., just south of its current location.
The new 23,000-square-foot facility is slated for completion in early fall 2017 and features a modern urban design that complements the walk-able nature of the expanding historic downtown La Crosse.
The new building will include a children's play room with an iPad bar and coloring center, and there will be complimentary beverages, popcorn and WiFi in a large guest lounge.
The new Subaru dealership will offer a fenced-in dog park with artificial grass, open for public use and a bicycle repair center for downtown commuters.
Tyler Dahl, FCC moms compare notes in advance of $24,000 donation
(5/20/2016)
by: MIKE TIGHE photo: PETER THOMSON ( La Crosse Tribune )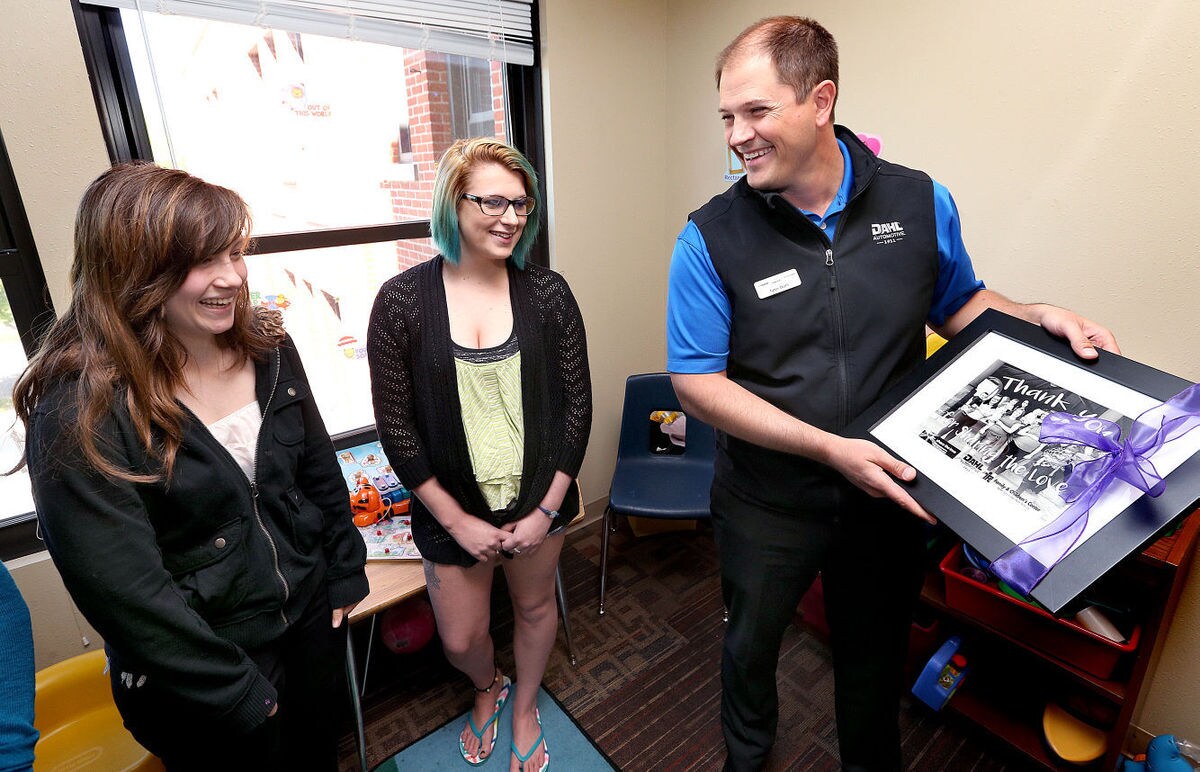 Tyler Dahl and three young women exchanged parenting anecdotes and discussed the importance of community service during a brief meeting Wednesday at the Family and Children's Center in La Crosse.
The parental dialogues were in advance of Dahl Subaru's presentation of a check for $24,000 to the FCC today for the agency's Healthy Families, Stepping Stones and Hope Academy programs, which are designed to launch families on healthy paths and prevent child abuse.
"We're so appreciative" of the FCC, said Dahl, general manager of Dahl Subaru and a former member and president of the FCC board. "We're so glad to have Hope Academy."
Read more here
Winona Chamber honors businesses Tuesday for leadership, community investment
(5/20/2016)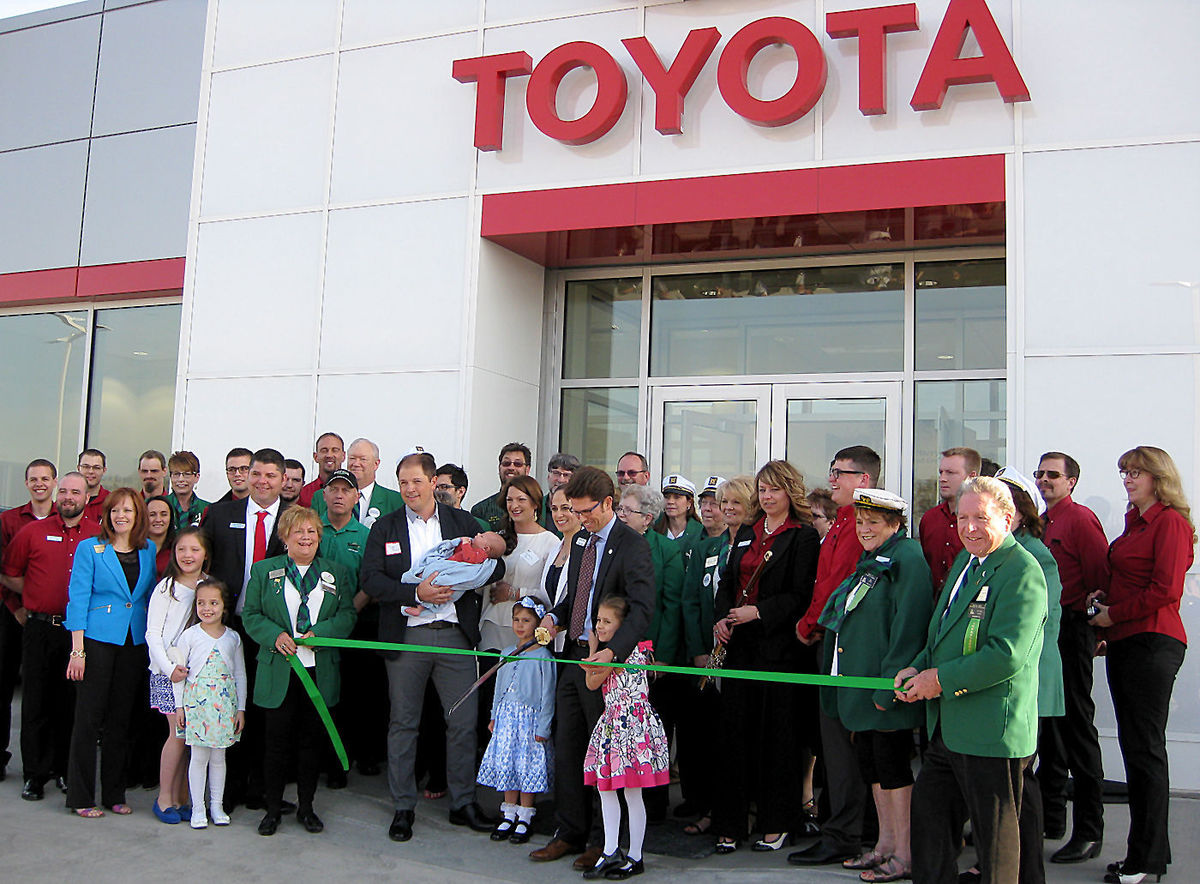 The 2016 Business of the Year Award: Dahl Automotive
The Winona Area Chamber of Commerce held its 16th annual Business Celebration Awards on Tuesday, May 17, where 250 business and community leaders gathered at the Riverport Inn to celebrate the award winners.
Jim Johnson, the retired long-time president of Southeast Tech, provided a keynote address on leadership.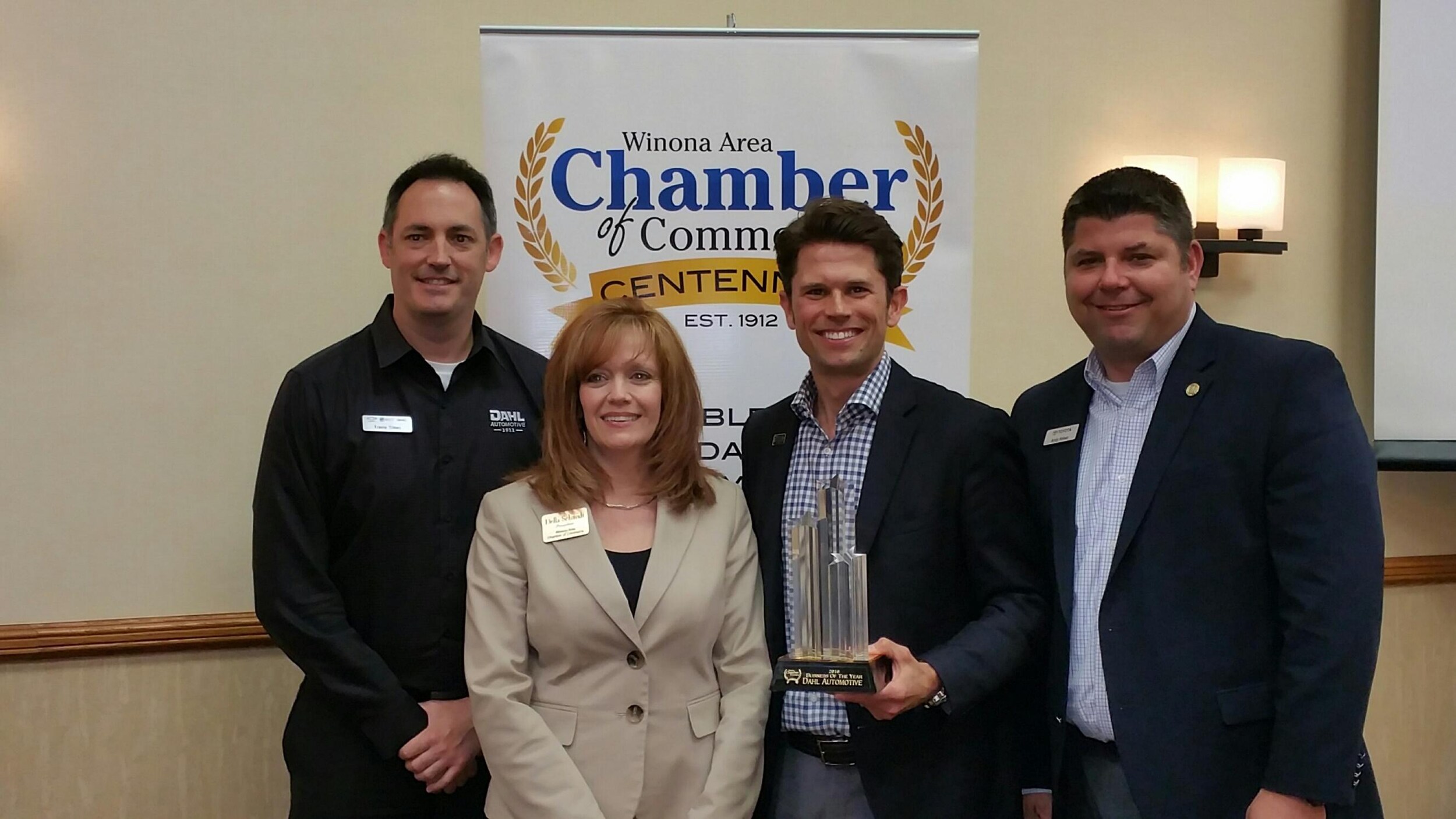 Dahl Automotive is grateful to the Winona community for receiving the Chamber of Commerce's Business of the Year Award yesterday. The award was given based on a number of factors including: Economic Development, Workforce Development, Business Achievement, Environmental Awareness and Community Engagement. We are humbled to receive this award and grateful for our entire Winona team who made it possible!
Dahl Chevy receives prestigious Green Dealer award
(9/23/2015)

General Motors Zone Manager Kerstan Ryan presents the Green Dealer Program recognition
to Dahl Automotive President Andrew Dahl (left).
Over 200 people team attended Dahl Chevrolet's open house during the Winona Chamber of 
Commerce's monthly "After Five" event. Those in attendance said they were dazzled by the 
new facility's guest-friendly amenities, impressive architecture, and state-of-the-art equipment. However, when General Motors Zone Manager Kersten Ryan took the podium, he quickly made it clear that Dahl Chevrolet is much more than just another pretty face.
Ryan presented Dahl Chevrolet with "Green Dealer Program" recognition for 2015. It honors 
Dahl Chevy meeting the requirements of green initiatives in a broad range of areas including 
energy use reduction, waste to landfill reduction, workplace environment, management 
practices, renewable energy, nature habitat, community outreach, recycle reuse re-purpose 
efforts, water conservation, and HVAC.
For Dahl Chevrolet General Manager Travis Tilton, the award was an unexpected surprise after a fantastic evening of showing off the new facility to community leaders.
"I was absolutely delighted by how many people attended the event," said Tilton. "They really 
enjoyed the tours and the atmosphere of the facility. I heard tons of positive feedback about 
how clean it was and how easy and comfortable it felt."
"Getting the Green Dealer recognition was an incredibly pleasant surprise, "Tilton continued. 
"We've done a lot to be eco-friendly in the construction, and to have your Chevy Zone Manager present you with an award for being a Green Dealer is a great honor. Only five percent of the dealerships in the country even qualify to attempt to get this award, and we successfully earned it.  I think it shows how much we care about the Winona community, and how we want to make a positive impact to help and support them in everything we do. Part of that is making sure that our footprint is small with the environment."
Winona Chamber of Commerce Executive Director Della Schmitt was impressed by the new 
facility, and the Dahl family's dedication to community service.
"It was great to see so many people from the community to come out to support the Dahl family and recognize the investment they are making in the community," Schmitt said. "They are exceptional community partners and are doing a great job with this campus. It really is exciting to see companies make an investment with an eye toward environment and efficiency. They are very deserving of the Green Dealer distinction, and we all celebrate with them."
For those who missed the open house, there's still time to visit Dahl Chevrolet and experience its Grand Opening Celebration.
"Our Grand Opening Celebration continues until the end of September,"  Travis Tilton said. "I 
want to invite everyone to come out and experience our new facility. We'll be glad to give you a tour, provide free refreshments and have you meet our team."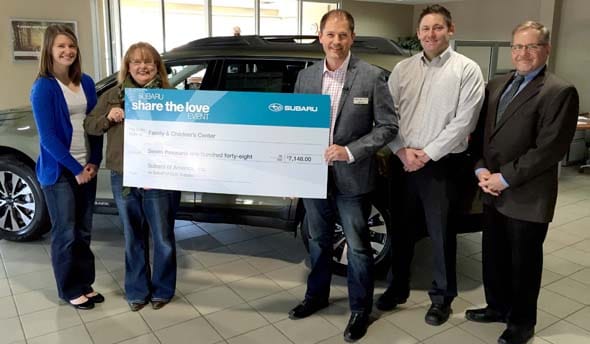 Dahl Subaru donates $7,000 to Family & Children's Center to prevent child abuse
LA CROSSE, Wis. - More local children will be able to benefit from child abuse prevention services in coming months due to a $7,000 donation from Dahl Subaru and Subaru of America as part of its "Share the Love" event.
Dahl made the donation to Family & Children's Center's Healthy Families, Stepping Stones and Hope Academy programs designed to get families started on a healthy path from the beginning and to intervene when abuse has occurred.
Customers who purchased or leased a new Subaru vehicle during the holidays could select from a list of charities to receive a donation of $250 from SOA. The company this year will donate $15 million to participating charities.
SOA, now in its seventh year, selected four national charities: ASPCA®, Make-A-Wish®, Meals On Wheels Association of America® and National Park Foundation. Dahl Subaru could also elect to add a local charity and added Family & Children's Center as its "hometown charity."
"Share the Love is about making a difference in our community and we can't think of a better place to start than with children and creating healthy families for them," said Tyler Dahl, General Manager of Dahl Subaru. "Our employees and customers have a philanthropic spirit, and Share the Love gives all of us a chance to do something great for our community."

-Award Recognizes Dealer Excellence in Customer Service- 
Cherry Hill, N.J.?(5/23/2013) Subaru of America, Inc. today announced that Dahl Subaru of La Crosse, Wisconsin joins an elite group set to receive the prestigious 2013 Subaru Stellar Care Award
"The Subaru Stellar Care Award is earned by top ranking Subaru dealers who deliver an exceptional ownership experience to our customers," said Bill Cyphers, senior vice president, sales for Subaru of America.  "Award recipients meet the high Stellar Care benchmarks for customer satisfaction, brand representation, and operational excellence.  Our brand has enjoyed record sales for the past four years and this success is in large part due to the excellence of our retail body."
Achieving this highly coveted award requires truly exceptional dedication and Subaru dealers must devote significant time and resources to the customer experience throughout the year.  Performance measures for the program range from participation in all customer-focused Subaru programs to maintaining a customer-friendly, inviting facility.  Dealers must also achieve outstanding satisfaction scores for all key areas in Sales and Service and demonstrate outstanding performance in Customer Loyalty.
Dahl Subaru is located at 712 4th street south, La Crosse, WI.  For more information, the dealership can be contacted at 608-784-9600 or at www.dahlsubaru.com.
DAHL AUTOMOTIVE ANNOUNCES ACQUISITION OF WALZ DEALERSHIP
Dahl Automotive today announced the acquisition of Walz Chevrolet Buick GMC in Winona.  The new dealership will be called Dahl Chevrolet/Buick/GMC and will continue to operate in the same location with 99% of the existing Walz employees.  This will be the second location for Dahl Automotive in Winona, after acquiring a Toyota dealership in 2010. "Growth is good," commented Andrew Dahl, one of the 4 owners of the new dealership that includes his father Harry Dahl and brothers Jansen and Tyler. "We've enjoyed being a part of this community and plan on taking an aggressive posture to secure Winona as the focal point in this region for our new lineup of brands."
Andrew pointed out that back in the 1930's the Dahl name was the biggest name in Chevrolet dealerships in America, with locations throughout the country.  "We're back with Chevy again, and looking forward to the next generation," he added. "We want everyone to experience what  Dahl Automotive is all about?choices? fair treatment?you know what to expect when you come in to see us."
 At this morning's press conference Jack "Butch" Walz explained that choosing the Dahl family was an easy decision.  "We've been serving this community for many great years, and I'm comfortable with the idea that Winona will be well served with the Dahl family," says Mr. Walz.
 Dahl is one of the oldest Ford dealers in America, and has been in business over 100 years. They currently own dealerships that include Dahl Toyota in Winona, Dahl Hyundai?Subaru?Mazda in La Crosse, and Dahl Ford?Lincoln in Onalaska.
Contact info:  Andrew Dahl   507-452-4080